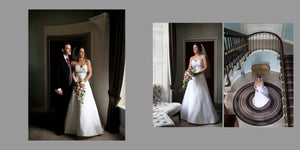 Who wants a Wedding Album
The Wedding Album Boutique is an album design & production business based in Enniskillen, N Ireland.
We help couples like you create your own unique handmade wedding albums so that you can easily tell the story of how your chapter of the family started to future generations.
To create a stunning album you need two things. A top quality Album/Storybook and you also need stunning images.
If you are using a different photographer from us then we would love to share our free weekly hints & tips with you so that you can have a stress free wedding day with your photographer which will help you to create the stunning images that you want for your album. You can get these hints & tips through our Blog & Social Media Links.
What many consider a daunting task of picking your images has been simplified by The Wedding Album Boutique. Here's more on How it Works.
If you want a look through our albums & Storybooks then call into The Wedding Album Boutique in Enniskillen and look through the different options available.
You probably have some questions that you want to ask so you can find out more in our FAQ's page.
Albums for other occasions can also be created.